Xanadu Gallery Presents a Webinar with Barney Davey
Guerrilla Marketing for Visual Artists
How to Build a Bulletproof Art Career to Thrive in Any Economy
a Live Webinar with Art Marketing Advisor, Barney Davey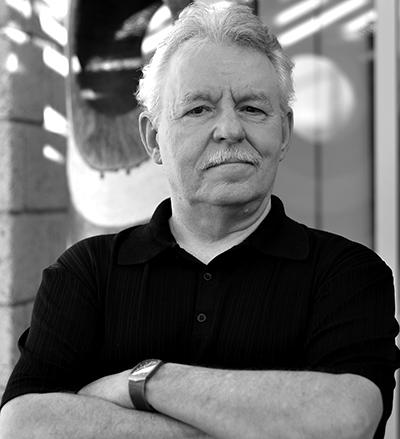 Thursday, October 10, 2013
4:00 - 6:00 p.m. Pacific
4:00 - 6:00 p.m. Arizona
5:00 - 7:00 p.m. Mountain
6:00 - 8:00 p.m. Central
7:00 - 9:00 p.m. Eastern
$29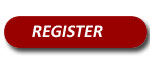 A Recording Will be Available After the Broadcast
Even if you can't attend live, you will receive a link to the video recording of the webinar
Xanadu Gallery is pleased to present a new, online workshop with art marketing advisor, Barney Davey
I'm pleased to announce a new webinar with my colleague and frequent collaborator, Barney Davey. You may have joined one of our podcasts, or read Barney's books, How to Profit from the Art Print Market, and How to Price Digital Fine Art Prints. If so, you know that Barney has unique insights into the ever-changing art market and is particularly savvy when it comes to leveraging new tools and technology. Barney has been an invaluable help to me as I've worked to keep Xanadu Gallery at the front edge of the internet/art revolution and has been a great source of advice and counsel to my art business.
Barney has been working for some time to develop a new workshop that speaks to the many challenges and opportunities that face an artist today. I've always done well when I've listened to Barney's guidance, and I encourage you to register for this new workshop so that you can tap into Barney's clear vision and advice.

Please read Barney's invitation and explanation below to learn more about the new webinar and then register using the links above.





J. Jason Horejs
Owner
Xanadu Gallery


A Personal Invitation from Barney Davey


I frequently talk to artists and find many are working hard to get their careers on track, but are frustrated with their results. Do you have the feeling you are never going to get your art out to the world and make a success of your artistic pursuits? Do you feel you are failing because of circumstances beyond your control?

If you sometimes feel like you should give up on your art career and dreams, you should keep reading.

Don't feel bad – you are not alone, and it's not your fault. The reason you're discouraged is not a lack of willpower, it's not because you are unwilling to try new things, and it's not a moral failing on your part.



The solution is to create reachable goals that work for your situation and your desire. Your definition of success is 100% unique to you. If you have been floundering in uncertainty about what to do, or trying to copy someone else's ideas of how to succeed as an artist, it's no wonder you're frustrated.

I invite you to attend my

Guerrilla Marketing for Artists

webinar. It clears the jungle path ahead of you, gives you the cutting edge, "what's working now" tactics you need, and, most importantly, helps you avoid the dangers and pitfalls along your path.



Success in today's challenging art sales environment requires you to do these five things:

1. Set realistic goals that equal your resources
2. Identify your best prospects
3. Create direct sales channels to your collectors
4. Employ powerful marketing tools matched to your capabilities
5. Act on a plausible plan to achieve your goals



Participate and Prosper
You are invited! This is your special invitation to participate in an exclusive marketing seminar designed to put you on the path of reaching your sales and marketing goals. By taking this unique workshop, you will gain valuable art marketing wisdom and practical solutions to help you get your career moving in the right direction.


Create marketing magic to get your work seen and sold
Discover art-marketing tools that will help you get your art seen and sold. You will learn how to simplify, streamline, and manage your marketing processes. You also will learn how to attaining satisfying, consistent results by identifying your top prospects and pitching to them multiple times with coordinated marketing methods.


Marketing in a vacuum fails
Sometimes we think others were just born with some kind of magic "entrepreneurial lobe" of their brain.

They weren't.

At one time, every artist started where you are right now.

By coordinating marketing tools and activities, you will produce the greatest return on your investment and efforts. You will learn how to harness the power of your marketing and the importance of frequent and repeated exposure to your target audience. You will learn to create marketing magic.

Did you know that, on average, it takes seven or more marketing touches to convert a prospect into a buyer? I will teach you how to focus the marketing tools at your disposal and how to increase your sales without spending more time or money on marketing.

The

Guerrilla Marketing for Artists

webinar will help you choose the right art marketing tools and techniques for your art career. You will learn how to break down your marketing processes so you can utilize the components most valuable to you. By emphasizing what works best, you will vastly improve your results.


In this intensive workshop, you will learn how to:
• Determine what is most valuable to you in your career
• Develop a list of prospects worth pursuing
• Bulletproof your career through networking and referrals
• Mix online marketing, social media and traditional art marketing for exceptional results
• Coordinate your marketing to wring the best return from every dollar you spend on it

and much more . . .

Register Today!



Thursday, October 10, 2013
4:00 - 6:00 p.m. Pacific
4:00 - 6:00 p.m. Arizona
5:00 - 7:00 p.m. Mountain
6:00 - 8:00 p.m. Central
7:00 - 9:00 p.m. Eastern
$29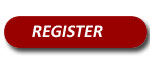 A Recording Will be Available After the Broadcast
Even if you can't attend live, you will receive a link to the video recording of the webinar
Comments from Past Attendees


This was a splendid webinar — completely worth the time and monetary commitment. So much information was made available to us…the webinar was invaluable. S. Ketcham

Learning how to "Create an Ideal Weekly Plan" – I think this will be a tremendous help to keep me focused on the right thing at the right time and reduce the creep of low priority distractions. A. Rimpo

Now that I have direction, I will stop faltering. Previously, I did not know what to do next. The reference guide with list of tools and resources are very helpful. I plan on implementing many of them. I plan to start with mapping my week, which will be most helpful in getting a focus. So many distractions keep me from creating, and then it takes so much time just to promote yourself. B. Venosdel

The whole webinar was very informative, so it's tough to single out one thing, but the section on social media probably answered the most questions.- A. Bartos

The importance of focusing on the local market; I had been lured by the notion that the internet will allow me to skip that part. K. Doner

Barney Davey's Webinar was worth every penny and more! His information is current, yet tried-and-true, relevant in today's quick-passed world. By focusing and closely following the advice,he gives artists gain knowledge and hope that they can sell their artwork, and can overcome marketing obstacles. I am an artist who produces lots of work. However, until now I did not know how to "get it out there" to be seen and sold. Exposure is everything! Thank you!!! S. Pierce
About Barney Davey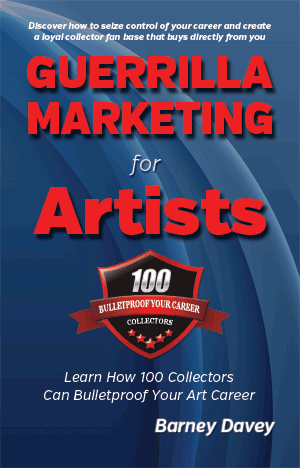 Barney Davey is a workshop leader, consultant, author, and blogger. Through his advice and counseling, he has helped thousands of visual artists improve their careers. Davey is the author of four books on art marketing, including Amazon.com best selling books How to Profit from the Art Print Market and Guerrilla Marketing For Artists. He also has contributed numerous art business articles to

The Artist's Magazine

,

Art World News

, and

Art Business News

, among others. Since 2005, he has published more than 500 art marketing and art business articles on ArtBusinessBlog.com.

Since 1988, Barney Davey has guided artists on art marketing, business, advertising and tradeshow strategies. In his involvement representing leading art business magazines and tradeshows, he worked closely with top selling artists and publishers. Today, he mixes lessons learned from those artists with his own considerable art marketing expertise to teach visual artists the best ways to create a thriving art career.
---
Xanadu Gallery | 7039 E. Main St. #101 | Scottsdale, AZ 85251 | 480.368.9929 | 866.483.1306 | WWW.XANADUGALLERY.COM
##ID## | To stop receiving email from Xanadu Gallery please click here