How to Sell Art
A Systematic Approach to Creating Relationships with Collectors and Closing the Sale
Amazon.com Bestselling Book by J. Jason Horejs | Owner, Xanadu Gallery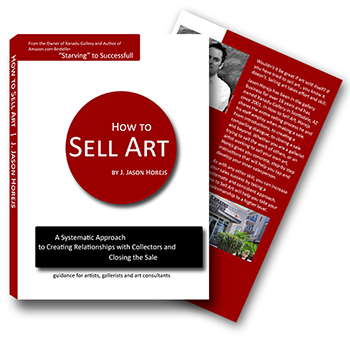 Wouldn't it be great if art sold itself? If you have tried to sell art, you know it doesn't. Selling art takes effort and skill.

Jason Horejs has been in the gallery business for over 18 years and has owned Xanadu Gallery in Scottsdale, AZ since 2001.In his new book, How to Sell Art, Horejs shares the entire selling process he and his staff employ when making a sale. From introductions, to creating a compelling dialogue, to closing a sale and beyond. Horejs gives you concrete, step-by step instructions that will help you tap and develop your inner salesperson. 

As with any other skill, you can increase your sales success by taking a systematic and consistent approach. How to Sell Art will help you take your art salesmanship to a higher level.

As an artist, you will have many opportunities to sell your art, whether it's directly to a customer at a studio tour or weekend art show, or through a gallery at an opening. Order How to Sell Art today and become an expert at building relationships with potential buyers and closing the sale.

How to Sell Art
207 Pages - Paperback
© J. Jason Horejs | RedDot Press
Paperback
Regularly $24.95 (+ s&h)
Order the book now for only $19.50 (+s&h)
Prefer Kindle?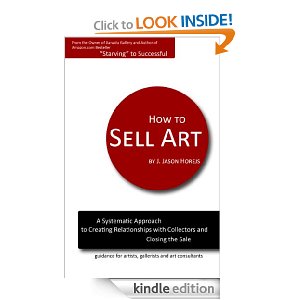 Look Inside the Book
Read a Sample Chapter for Free
How to Sell Art will Teach You
How to start off on the right foot. The first sixty seconds can make all the difference when you are interacting with a buyer. Make sure you are giving the right first impression.
How to learn your client's names. No more excuses – it's time to become a master of names. Learn techniques that will help even the most artistic of minds capture a name like a steel trap.
How to offer the client an opportunity to buy. If you aren't giving the client a chance, they are never going to buy. Make sure you are saying the right thing at the right moment to close the sale.
How to negotiate like an expert. Selling art is not like selling used cars, but there will, inevitably, be times when you need to negotiate with a client. Negotiation is a delicate process. Learn how to expertly navigate a negotiation and make sure that both you and your client come out winners.
How to follow up persistently without being irritating. If you aren't able to close some sales on the spot, that's OK – you can still secure a sale by consistently and persistently following up.Some clients need a little time to get to a point where they are ready to buy, but if you don't follow up they are likely to simply forget about you and your work.
Create Fans. The sale isn't the end of the sales process, it is only the beginning. Turn buyers into collectors with post-sale follow up and systematic communication.
And much more . . .
If you are a painter, sculptor, fine-art photographer, jeweler, gallerist or art promoter you will benefit from How to Sell Art


Order the book now for only $19.50 (+s&h)
About the Author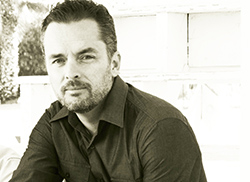 J. Jason Horejs | Owner, Xanadu Gallery
Art flows through Xanadu Gallery owner J. Jason Horejs' veins. Second generation in the art business, (Horejs' father is a nationally recognized oil painter John Horejs), Horejs' life has always been filled with art. Though not interested in pursuing a life as an artist, Horejs fell in love with the business side of art at an early age. At age 12, the future gallery owner was employed by his father building custom canvas stretchers.
In 1991, at the age of 17, Horejs began working for Legacy Gallery in Scottsdale, AZ, where he learned the gallery business from the ground up. Horejs handled logistics, shipping and installation, eventually working into a sales position at the western art gallery. Horejs worked in the gallery's Scottsdale and Jackson Hole, WY, locations.
In 2001, Jason and his wife, Carrie, opened Xanadu Gallery in Scottsdale. In spite of opening on September 11th into a completely changed art world, Horejs built the gallery into a successful venture, showing work by internationally recognized artists and selling to collectors from around the world, including major municipal and private collections.
In 2008, Horejs developed a series of art marketing workshops designed to help artists better understand the gallery business and better prepare themselves to approach galleries. This series of workshops has helped thousands of artists prepare to show and sell their work through galleries.
"I discovered," says Horejs, "there was very little information out there for the aspiring professional artist regarding the business side of art, especially in terms of the crucial relationship between the artists and the fine art gallery. Even artists who have graduated with master's degrees leave school having never heard a word about how to approach galleries."
Horejs observes that artists approaching his gallery are making many of the same mistakes, not because their work isn't gallery-ready, but simply because they don't have a clear idea of how to proceed. The clear-headed advice the gallery owner gives is designed to give the artists concrete steps they can take to prepare their work, research galleries and approach galleries for representation.
In 2009, Horejs published "Starving" to Successful, based on his workshops and experience helping artists. The book has been a #1 best seller in Amazon.com's Business of Art category.
In addition to his ongoing work with artists and collectors through Xanadu, Horejs has dedicated himself to disseminating his knowledge of the gallery business to artists.

Order the book now for only $19.50 (+s&h)

Testimonials
I thought I would provide you with some positive feedback regarding your book, HOW TO SELL ART.
First of all, the book arrived just as we were starting a 3 day outdoor art show. So I got to read the book.
I had to read it quickly so that I could use the ideas in a real live environment as soon as possble.
So on the second day of the show, I became enthused with your suggestions. I reached out vocally to people who came to the tent. I worked at getting to know them and what they were looking for.
And, I think that I did a pretty good job using some of your ideas and they worked. We were able to sell a few pieces (originals) that day.
Also, during the show we asked people who appeared really interested but wanted to check size of walls etc. to give us their email address. The Monday following the close of the show, I sent out emails (at least 6) with thumbnail
images of the pieces and details and pricing information to those individuals that had indicated an interest.
I received 2 responses back and one of them is asking to buy an original.
So, I just want to say thank you for the timely information. Your ideas work!
Regards,
Rosemary Naemsch, for Michael Naemsch (ARTIST)
---
I loved, loved, your book, how to sell my art!
I did great at my last two open studios: 10 sales for sure + 12 commissions and many more people to visit or who will come and visit me, this coming week...
Thanks for everything you do.
Florence,
 http://www.florencedebretagne.com
---
Hi Jason
Yesterday, I got your email about your new book on "How To Sell Art". I read your sample chapter 5 and knew instantly that your book was full of valuable insights on selling art. I ordered your book immediately. The following day I had an open studio tour at my house and I thought I would try some of your sales techniques that you talked about in chapter 5. I started to engage the potential customer in conversation about my photographs. This is something that I haven't done too much of in the past. I told the story behind the photograph that they seemed to be attracted to. I started asking questions about what they liked about my work. This is all lead to a closer bond to that potential customer. At the end of the day I sold 3 large piece and I am so thrilled that I thought I would say thanks. I don't even have your book yet and I made 3 sales! I am looking forward to tomorrow's open studio and trying more of what I learned in that one chapter.
Thanks
Vincent DiLeo
www.vincentdileo.com
---
I thought you'd like to know that I took a booth at the Architectural Digest Home Design Show and extended my hand to every single person who stepped into my booth - and there many - and introduced myself just as you suggested.

As the days went on (4) I kept thinking of your advice and how it worked like a charm!

I sold 4 pieces to a gallery in CT, made other gallery connections with an invitation to show in NYC, negotiated a more desirable contract with one in Toronto and met tons of interior decorators and designers.
I've never experienced anything quite like this. I can't thank you enough for sharing your knowledge with us!
Cecile Brunswick
Artist, NYC
---
I used your suggestion last night and invited two interested buyers to  an opening at Maple & Main Gallery in Chester, CT, to buy my paintings. They did! I sold two pieces last night! 

Joan Cole
Artist, CT
---
I dived into your book, "How to Sell Art", last night. Love how you detail every part of the artist or gallerist/collector interaction, from the moment the collector walks in the gallery or studio door to when they walk out either with a purchase or not. How many times have I wondered what my approach should be at each juncture- you've choreographed it so well. I smile and recognize so many of the various perplexing situations you describe - and you offer solutions.
You get us out of the filmy world of artistic creation, into the concrete on-the-ground reality of organizing our production and connecting real people with the art on the wall.
Sincerely,
Karen Horne
Artist, Salt Lake City
---
For me, the most critical part of the book was the section where you wrote about talking about one's work. It has utterly transformed the ease with which I am now writing about my work.
I have word doc with descriptions of my pieces so that they're handy when needed. Now, when I open that document, the first thing I see are your six points on what to touch on when speaking about a piece. I am usually completing two pieces at a time because I always have a few in play so the first thing I do is read over your words, enter the names of the new pieces and then jot down what first comes to mind after having read your ticklers.
Because each piece is different, different aspects of each work come to mind when 'thinking' about them. I then refer back to your ticklers to see where I might need to expand. Usually, once I've got the 'story' started, one thing leads right to the next and the tales unfold all by themselves. I keep the work in front of me as I write and it's amazing to discover things I hadn't even realized were there!
Proceeding in this way keeps the format of the entries very different from one to the other so it doesn't look as if I've followed a formula at all. In addition, I find that writing about each piece allows me to speak about the work, when that is necessary, with greater passion and detail.
Thank you so much!
Victoria Pendragon